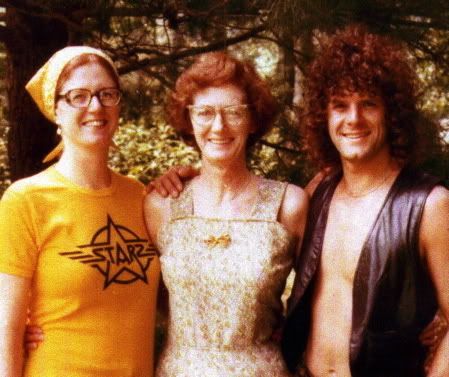 I recently had the pleasure of meeting up with Piet Sweval's older sister, Kris, and his Mom, for lunch in Tampa, Florida. It was a fluke that we were in the same place at the same time, but a great opportunity for me to get to 'know' Piet. Thought I'd share some things I learned.
1. Piet was ambidextrous.
2. An artist, he could draw with either hand. Kris said it was fascinating to watch him draw the left side of a picture with his left hand, and the right side with his right!
3. He drew pen & ink illustrations, and also painted. Somewhere is a painting of the view from his loft apartment in NYC.
4. Pieter graduated in the top 10% of his class at Rutgers in 1970, with a degree in art.
5. He HATED flying. One can only guess what it was like for him to fly to Australia with his band, The Skatt Brothers, in the 1980's.
6. BUT, he really enjoyed making models of WW2 fighter planes and would hang them from the ceiling of his bedroom, with fluffs of cotton 'trails' . . . . .
7. Pieter once wrote a letter to his hero, Eddie Rickenbacker, the WW1 flying ace, AND received a personal reply!
8. Pieter did theater (including The Music Man) in college and was, by some reports, a 'scene stealer'. If the music thing didn't work out, his family thinks he would have gone into acting.
9. The guitar was his first musical instrument. He bought one at around age 15 for $25. The strings were so high off the frets that his fingers bled while he taught himself to play.
10. Born in April, 1948, he was the eldest member of Starz and loved the Beatles.
11. He formed a band in high school with some friends in the coastal NJ town where he grew up. Needing a place to practice, they approached the owner of an empty barge that was moored in town. The guy said yes and the band is said to have 'made quite a ruckus' as a 'barge band' rather than a 'garage band'!
12. When Piet was 6, his Dad, who worked for Saab, moved the family to Sweden for two years. On the 18 hour flight to Sweden in 1954, the plane made a forced landing in Scotland. While there, the family visited the house of Robbie Burns, a highlight of the layover.
13. Apparently, he was a bit of a jokester. During rehearsals for some of the plays he was in, he would crawl under the curtained piano and move it ever so slightly away from the piano player . . . . . again and again . . .
14. Pieter's middle name is Hastings, an old family name. His Mom figured it would make a nice stage name if he caught too much flack for his unusual first AND last name. Which he did.
15. Pieter has a 14 year old nephew, born after he died in 1990, who is named after his famous uncle and is the proud recipient of his gold record for "Brandy" with Looking Glass.
16. Piet was 'Swiss/Irish"!
With hearfelt thanks to Piet's family for sharing their memories!
PG